THIS IS AN UNOFFICIAL NYPD AUXILIARY WEBSITE. THIS WEBSITE IS NOT MAINTAINED BY THE NEW YORK CITY POLICE DEPARTMENT. THIS WEBSITE IS RUN BY THE 77TH PRECINCT AUXILIARY POLICE UNIT. IF YOU ARE LOOKING FOR THE NYPD WEB PAGE YOU CAN CLICK HERE
2 NYPD AUXILIARIES KILLED IN THE LINE OF DUTY ON MARCH 14, 2007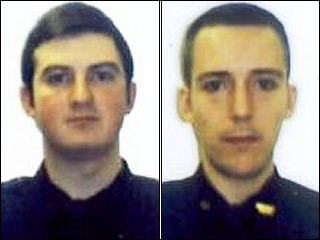 AUXILIARY POLICE OFFICERS EUGENE MARSHALIK, LEFT, AND AUXILIARY POLICE OFFICER NICHOLAS TODD PEKEARO WHO WHERE BOTH ASSIGNED TO 6th PRECINCT
We are doing open enrollment every Thursday until the end of July 2014 come to the 77th precinct, we are located at 127 Utica Ave Brooklyn, NY 11213 from 7:00PM-10:00PM. And this will help get you into the September 2014 class if accepted.
We're looking for few a few good men and women to help keep our community and our city safe.
Recruitment is now closed for the February 2014 class. We are now looking for people for the September 2014 class. If interested please come in or call/email for more information on the NYPD Auxiliary Police Unit.
Our number is 718-735-0675 and our email address is
Welcome to our web site!



The NYPD Auxiliary Police is an all Volunteer program where Members perform foot and RMP patrol in their own communities. In addition Members often participate in Citywide Details such as parades, community events and the NYC Marathon. To join the Auxiliary Police you must a have a good background, be a US citizen or have a Green Card and be the age of 18 years of age (17 years old with parental consent). This is a rank structured program. All new Members must participate in an approved training course and pass the required tests. The course typically runs one night a week for 18 weeks. And you must also pass a drug and alcohol test before you can take the class.